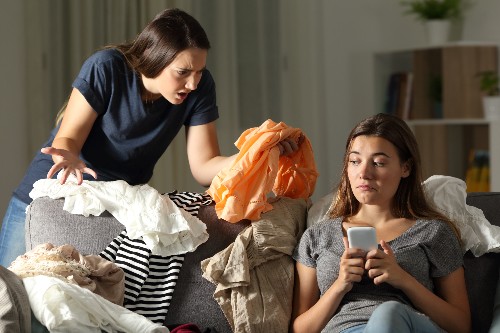 Having a calm home will provide a refuge for you from all the stressors in life. Having a sanctuary is vital to being able to relax and unwind after a trying day. Even after the calmest beginnings, some roommate relationships can take a turn when problems take place. Take comfort in knowing that you are not alone in your struggle and that there are things you both can do to create the best home for you both.
Keep reading to learn about some of the most common issues roommates have during their apartment rental and what you can do to solve these problems.
Common Roommate Problems During an Apartment Rental
Problems with money - Money tends to build tension in most relationships and is one of the major contributors to romantic couples breaking up. Finances can cause people to become sensitive. If one person is late or pays an unfair amount, there will be stress in the relationship.
Disruptive - When one person is playing loud music late at night while the other tries to sleep so they can get up early for class or work, there is going to be a problem. Quiet hours are important to establish and encourage.
Disrespecting someone - When you are counting on those leftovers to be your dinner or that last bit of milk to be enough for breakfast, it can be annoying to find them gone. Roommates taking things without asking is dangerous - that can make someone feel as if they aren't respected and that their belongs are not safe. If your roommate goes into your private area and takes things without asking, that violation of trust can be scary.
An equal share of chores - Keeping up a home takes work. When one person does all the cleaning and dishes, the other can feel cheated.
Solving Issues with Your Roommate
Take a proactive approach - When you plan to live with someone, set up expectations for what you both believe is important, including bills, chores, and respecting the other's space. At the first sign of a problem, make sure to revisit the agreements or create new ones. Some basic ground rules can go a long way.
Get real with your roommate - Consider your own conflict resolution style then ask about their style to create a compromise that will allow you both to address issues and solve problems. This approach will also push you both to consider each other's perspective and needs.
Keep talking - Even when there are issues, it is important to keep the lines of communication open. Be an active listener and consider their side, just as you would want them to consider yours. Avoid leaving notes or using social media to vent your problems.
Working together to build a united home will give you the best living experience you could hope for based on mutual respect. Equally important of who lives with you is the environment where you live. MetFLATS offers living communities for people of all ages with many options so you can have the home you need.
Give the team at MetFLATS a call today at (248) 588-1488 to set up a walk-through tour.